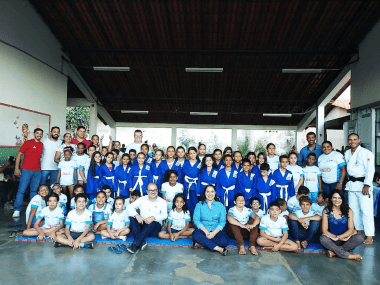 Sport Citizen will benefit 400 students in Minas Gerais
The Ajudou.Org continues to expand its activities throughout Minas Gerais. Opened on October 10, Projeto Esporte Cidadão is located in two of the largest cities in the state. In Contagem, it offers free futsal lessons to 100 children and teenagers, aged between 7 and 15, who live in the Bela Vista neighborhood. In Montes Claros, 300 young people benefit from handball, judo and volleyball lessons in two locations, Escola Municipal Eunice Carneiro and Escola Municipal Vidinha Pires. All free.
To celebrate the new project, events and delivery of uniforms to students were held in each city, with the participation of representatives of the municipalities, the Associação Ajudôu.Org, which is the creator, and VLI, sponsor of the initiative. The students who will participate in the classes and their guardians were also present.
Students of the Olympic City Project of Contagem-MG during the opening ceremony.
With less than a month of activities, the futsal teacher at Cidade Olímpica de Contagem, Narcielle Araújo, already sees the reflection of the work in the community. "I have seen that the residents of Bela Vista have embraced the Esporte Cidadão project. Parents are always present in classes and students love playing futsal and want to learn more every day. The expectation is that the project will grow, remain in place and generate constant benefits for the participants", she highlights.
According to Juan Rachid Perez, President of the Association Ajudôu.org, this is just the beginning of the institution's work in Contagem and Montes Claros. "We still have a year of work. It is very important to have the confidence of a company as big as VLI in these projects. We will do our best to make the most positive impact possible on communities," he stressed.
In Montes Claros, the delivery of materials was pure fun.
The Citizen Sport Project is carried out through the Federal Sports Incentive Law with the sponsorship of VLI and the support of the Municipalities of Contagem and Montes Claros. In Contagem, classes are in the morning and afternoon at Educarte Estação do Saber. In Montes Claros, handball, judo and volleyball classes take place at Escola Municipal Eunice Carneiro and Escola Municipal Vidinha Pires.