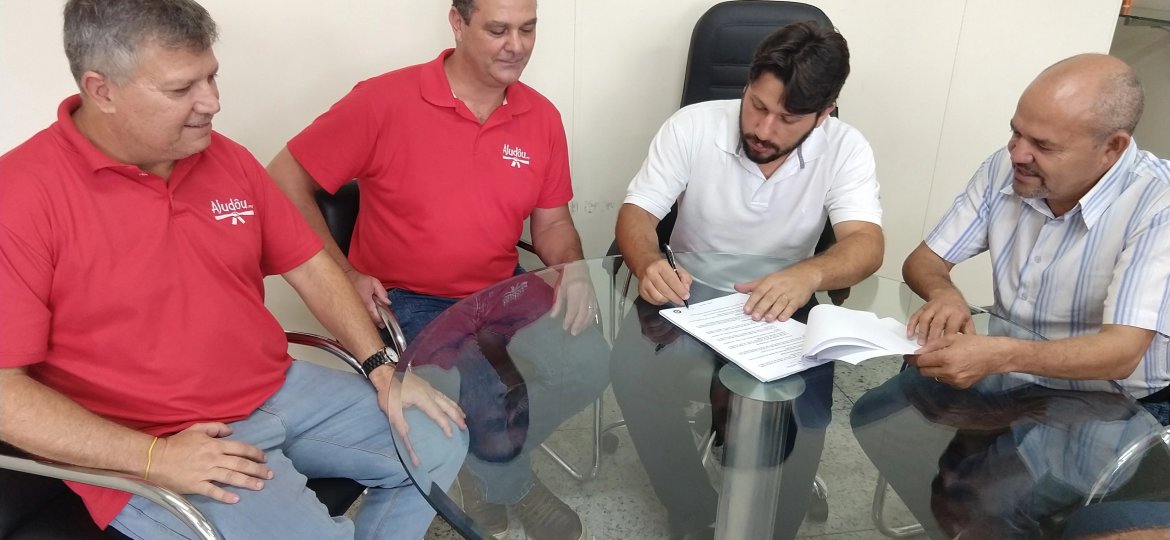 Timóteo City Hall signs an agreement with Projeto Ajudou
The City of Timóteo formalized on the morning of this Friday (5) the term of collaboration 002/2019 with Associação Ajudou for judo classes in municipal schools. Initially, the partnership provides for the assistance of 600 students from schools located in the Ana Moura, Novo Tempo, Limoeiro, Macuco, Centro Sul and Cachoeira do Vale districts.
In a complementary way, the initiative will also be extended to the students of the Association of Parents and Friends of the Exceptional (Apae). In all, the agreement provides for investments of around R$ 105 thousand with own resources from Education for a period of twelve months.
According to Sports Manager Cláudio Gualberto, the criteria for defining the schools took into account the territorial location of greater social vulnerability and the expansion of the Basic Education Development Index (Ideb). There will be 100 students per school unit, aged between 4 and 14 years, whose enrollment will be made by the school itself. The one-hour classes will be held twice a week.
The Deputy Mayor and Municipal Secretary of Education José Vespasiano Cassemiro, Professor Vespa, celebrated the agreement and recalled that a public call was made based on the regulatory framework of the 3rd Sector in which technical and financial proposals were analyzed. "I am very happy to be able to rescue this relationship because we know that the Project is a serious institution that will contribute even more to the training of our students", he pondered.
Citizenship
The president of Associação Ajudou, responsible for the project, Juan Rachid Perez Maluf, in turn, said that it is a pleasure to return to work in Timóteo, where the project was created. Ajudou has been in existence for 24 years, is present in 26 cities, serving more than 4,000 students. "Timoteo will be the center with the largest number of students served. It is a great satisfaction to return to our origins", quoted Juan.
He took the opportunity to highlight the benefits of the project to students. "Judo is a differentiated sport, because it works on discipline, respect; the formation of citizens and citizenship, which ends up helping in other school activities", pointed out the president of Associação Ajudou.
The mayor of Timóteo Douglas Willkys also celebrated the partnership after two years. "The entity already has a positive history of developing projects in this area and we are happy to know that 600 students will have the opportunity to start practicing sports. We have a lot to celebrate with this partnership," he emphasized.
Source: PMT Disclosure