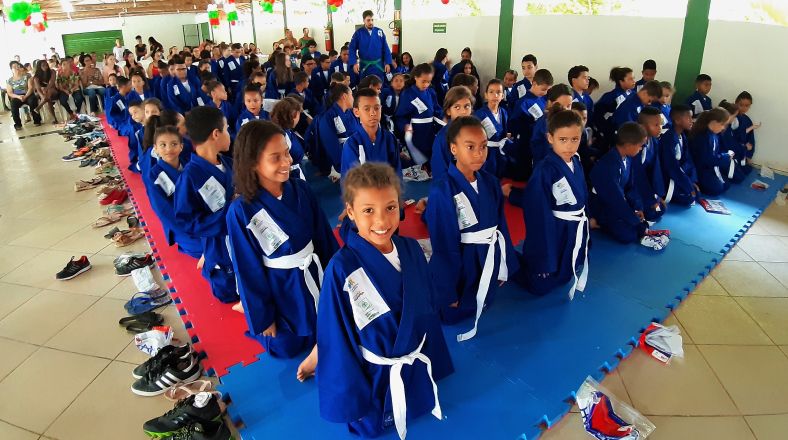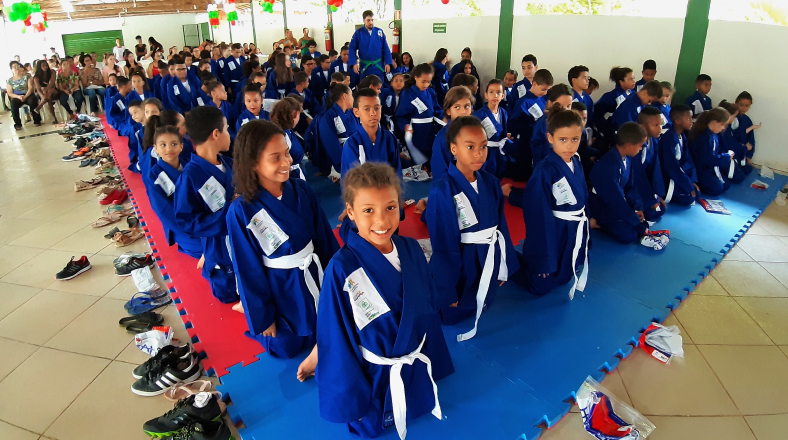 Sponsored by Cenibra, Projeto Cidade Olímpica do Ajudôu reaches four more cities in Minas Gerais.
Transform young people into true and healthy citizens through Sport. This is Ajudôu's mission and it will impact the lives of over 500 young people in four cities in Minas Gerais. Sponsored by Cenibra and supported by Instituto Cenibra, the ONG starts working with the new Olympic City Project in Ipaba (volleyball), Pingo D'água (futsal and basketball), Bela Vista de Minas (futsal and basketball) and Peçanha ( judo).
The social project is encouraged by the Federal Sports Incentive Law of the Special Secretariat for Sports of the Ministry of Citizenship, support from municipal governments and the realization of Ajudôu.Org. Classes are 100% free for all benefited students, who also receive uniforms, kimonos and brand new balls for practicing sports.
Ajudôu and Cenibra have been working together for 6 years. It's a solid partnership that transforms communities in a process that starts with children and impacts the entire family. "In the fight for inclusion, everyone wins. Entering a community and seeing the smile of parents and children is what moves us. The Olympic City social project will contribute to the health and bonding of these children in the areas where the Cenibra", highlights Júlio César Lana Jaques, founder and fundraising manager of Ajudôu.
According to the CENIBRA Institute, providing access to sports for children and adolescents is an assertive investment in human development. Partnerships with serious and responsible entities, such as Ajudôu, consolidate the excellence of "Our Social Look", a look that integrates and brings people together for a better world. "Peçanha did not have any free sports activities for children, especially girls. This project encompasses boys and girls and this gives a meaning of inclusion, integration and gender equality that is unique in the city", says Ivone Brandão, resident of Peçanha and Representative of the Cenibra Institute.
For the partnership between the private sector, the Federal Government and the third sector to achieve success, the municipalities covered have a fundamental role in this procedure. Municipal managers know their needs and how to remedy them, however, money and qualified labor are often lacking. Lulude, Secretary of Education, Culture and Sport of Peçanha, found at Cidade Olímpica the chance to offer free judo classes to the city's children. "Judo works mind and body and we need thinking minds. A judo project like this the city government would not be able to make available to the population. We only succeeded because of the public, private and third sector initiatives. I thank Cenibra and Ajudôu for contributing to the education of our young people", says the secretary.
In Peçanha, one of the families benefited is that of Fátima Conceição Santos, a housewife in Peçanha. Her son, Kaiky Santos, 9, is one of 125 new judokas in the city of 17,545. "I'm enjoying my son doing judo. As soon as I found out about the project, I signed up for it. This class is great for him to have more discipline and be more uninhibited. Also, he makes a lot of friends. The whole community benefits from this", says Fátima, with that smile of satisfaction on her face.
Young people also share the same opinion as their parents. Sarah Katherine, 12, is a futsal goalkeeper for the Olympic City of Pingo D'água. She found in the project sponsored by Cenibra the opportunity to practice a sport guided by a teacher. "Before, here in Pingo D'água, there was no other project with futsal exercises as the teacher teaches. I always wanted to learn and I had no where. Now I have. I also like the uniform, it's very beautiful", says Sarah. Apparently she must be a great goalkeeper, as she confidently grabs great opportunities.
Olympic City Opening Events/Classes
Last Saturday (11/9), the inaugural classes of the Olympic City Project II took place in Pingo D'água and Ipaba. This Tuesday (13), it was the community of Peçanha's turn to receive the kimonos and shirt. The inaugural class of Bela Vista de Minas is scheduled for November 21st. Young people who want to participate in the project should look for the Municipal Department of Education and Sport in their city and register. If there is no vacancy, leave the name on the waiting list.