Social Projects can be supported by companies and individuals for tax exemption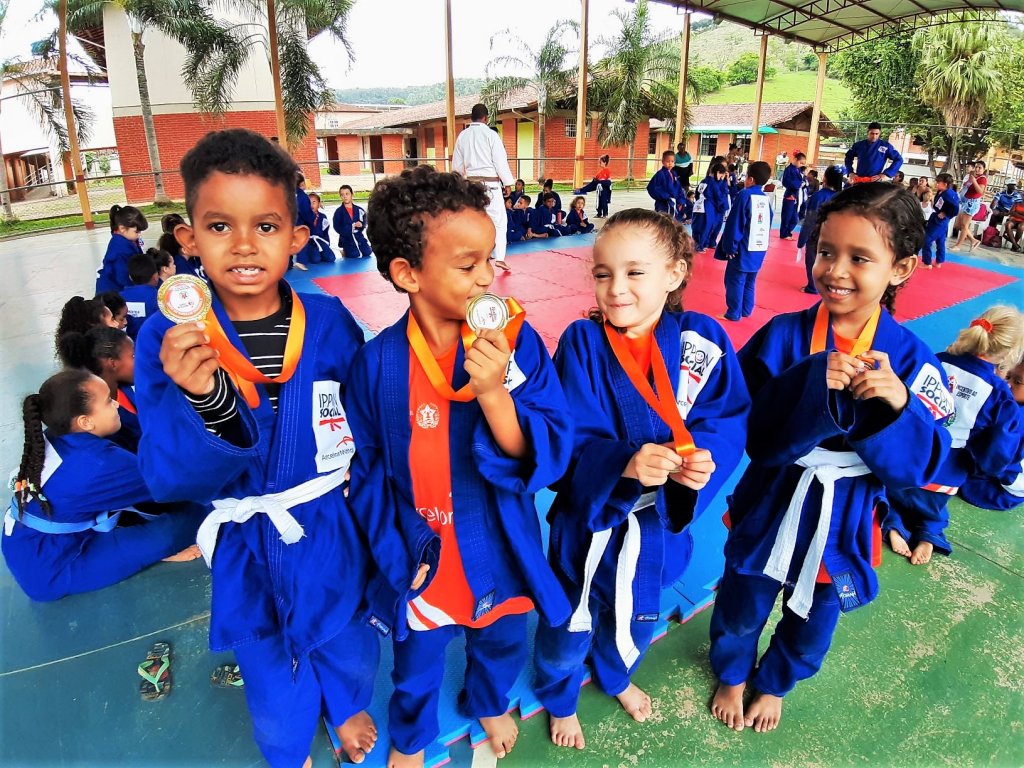 It is through donations that Ajudôu is able to change the lives of so many young people. It is an award-winning work in the state and that yields wonderful results wherever it goes.. The Social Project was created in 1995 and its main partners have always been the public and private sectors to promote the inclusion of children in society through sport. Since then, more than 25 thousand young people, between 5 and 17 years old, have been assisted with judo, volleyball, handball, futsal and basketball in 23 municipalities in Minas Gerais.
In addition to teaching sports, the institution has become specialized in strategic partnerships with companies that practice social responsibility. Large and medium-sized national and multinational corporations such as Carrot, ArcelorMittal, Brookfield Brasil (Canadian multinational), Nova Transportadora do Sudeste S/A – NTS (New Southeast Carrier), Nova Era Silicon, Aperam,  Emalto e Pedreira 1 Valemix.
"During partnerships, Ajudôu becomes a social arm of sponsors in the communities where they operate. Therefore, it is important to support institutions that have tradition, credibility and know-how. Our work goes far beyond sports classes", highlights Júlio César Lana Jaques, founder and manager of Ajudôu.
However, anyone who thinks that only large corporations have the financial conditions to sponsor social projects is wrong. Medium and small businesses, and even individuals, can convert part of their taxes into donations to social causes. It is worth mentioning that there is no additional financial cost in this noble and transformative undertaking.
Free contributions to the Ajudôu can be carried out in the following ways:
Federal Sports Incentive Law: the REAL PROFIT company can sponsor up to 1% of the Income tax payable;
Minas Esportiva Incentive to Sports: the company can sponsor up to 3% of the ICMS payable;
Individual Contribution: reduction of 100% of the incentivized amount up to the limit of 6% of the Income Tax;
Public sector partnership terms.
Learn more about each form of donation and see which one fits you.
Federal Sports Incentive Law:
"Enacted on December 29, 2006, Law No. 11,438 has become an important instrument for the development of Brazilian sport at all levels. Individuals and corporations can encourage sports, Olympic, Paralympic and other sports projects through donations or sponsorships, using a percentage to be deducted from the amount due to Income Tax". Excerpt taken from the official website of the federal government.
A company can donate up to 1% of its Income Tax payable to Ajudôu Projects approved by the Sports Incentive Law Commission. Currently, Ajudôu has 9 projects suitable for funding. The contribution is not complicated, just deposit it in the Ajudôu account and the Ministry of Citizenship will issue the receipt, because it will be with it that you will declare your contribution the following year.
State Sports Incentive Law – MG:
In addition to large companies, this format allows medium-sized entrepreneurs and small businesses to contribute socially to the community. Just as taxes can be deducted in the Union, in the states it is also possible. Here, we are going to talk about Minas Gerais, where legal entities can sponsor up to 3% of the ICMS payable.
"The State Sports Incentive Law is a program to encourage the practice of sports in the state. Through this mechanism, it is possible that the financial support made by companies to sports projects approved by the state are deducted from the monthly debit balance of the Tax on Operations Relative to the Circulation of Goods and on Provision of Interstate, Intermunicipal and Communication Transport Services (ICMS), also known as "Current ICMS", allocating the resource in the form of sports to the population". Content taken from the official website of the Government of Minas. Currently, Ajudôu has 3 projects capable of raising funds at the state level..
Individual Contribution:
According to the Federal Government's official website, "the Sports Incentive Law allows you, a Brazilian citizen, to invest part of what you would pay in Income Tax to finance projects in sports and educational parasports, participation or income, being able to deduct up to 6% the tax due in the Annual Adjustment Declaration". It's easy to help Ajudôu, just deposit it in the project account, and keep your bank receipt, because it will be with it that you will declare your contribution the following year.
Public sector partnership terms:
The Third Sector was born from civil society precisely to contribute to the state in fulfilling the basic rights of citizens. There is nothing more natural than establishing partnerships, especially at the municipal level. Currently, we serve 700 children in Timóteo — MG, through a partnership with the city hall.
To delve deeper into the content and support our cause, contact us, we are at your disposal..