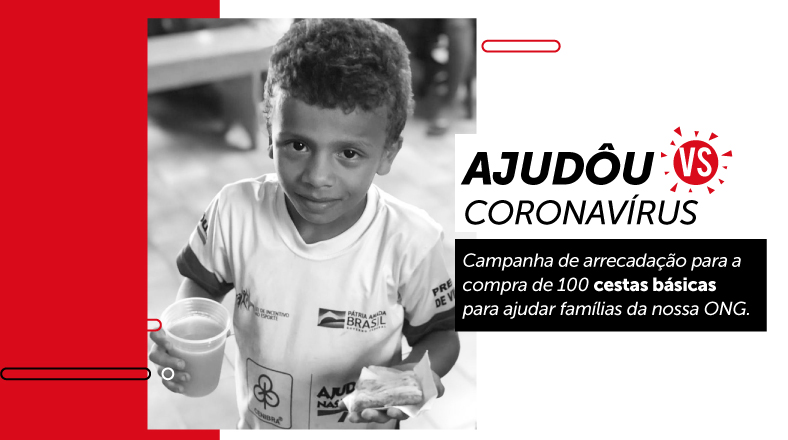 Helped VS Coronavirus, a fight against hunger
Ajudôu, an NGO from Timóteo, launches an online campaign to collect basic food baskets to help feed more than 2000 beneficiaries
The coronavirus crisis could almost double hunger in the world in 2020, points out a study by the United Nations Organization (ONU). Faced with this catastrophic scenario, Ajudôu is gathering donations to alleviate the situation of 2200 families currently served by the entity in 12 municipalities: Timóteo, Brumadinho, Dionísio, São José do Goiabal, Barão de Cocais, Virginópolis, Raul Soares, Nova Era, Peçanha, Pingo D'Água, Bela Vista de Minas and Ipaba. 
100% of the beneficiaries of Ajudôu are from public schools, so the institution understands the dimension that the lack of school meals makes in the lives of students. For low-income families, rice, beans, vegetables and meat distributed during recess are essential for the growth and development of their children. Today, because of the pandemic, this meal no longer exists for them. Covid-19 has brought hunger to low-income families served by the institution with great force..  
The campaign against hunger
For this reason, the Ajudôu VS Coronavirus campaign was launched to raise money for the purchase of basic food baskets, which will be distributed to the most needy families of the ONG. "Our classes have been stopped since the quarantine, but Ajudôu has not. We do not abandon our students. We have an obligation to help them in the current scenario. Our initial objective is to raise 5 thousand reais to buy at least 100 basic food baskets for the families of the beneficiaries", highlights Júlio César Lana Jaques, founder and executive manager of Ajudôu. 
The campaign is in partnership with HubSocial, an incubator of social projects in Belo Horizonte created to train, invest and support Social Impact initiatives. In addition to providing the online collection platform cidadedobem.com, HubSocial has already helped Vale do Aço and the region in the floods of January and February this year, with the donation of 174 mattresses to families impacted by the waters.  
Two forms of Donation are available: 
1 – Donate in basic baskets directly to Ajudôu. Get in touch via social media https://www.instagram.com/associacao.ajudou ou www.facebook.com/ajudou . 
2 – Online crowdfunding in partnership with Hub Social. Access the link to go to the COVID-19 Fund campaign page. Donating is quick and easy. Just click in the link https://is.gd/ajudouvscoronafundocovid19 . 
About Help
O Ajudôu is a Non-Governmental Organization, recognized for its public utility in the municipal and state spheres. It was founded in 1995, in Timóteo-MG, and has already served more than 23,000 children and adolescents with free judo and other sports classes. Currently, Ajudôu is present in more than 12 cities in Minas Gerais, serving more than 20 schools.