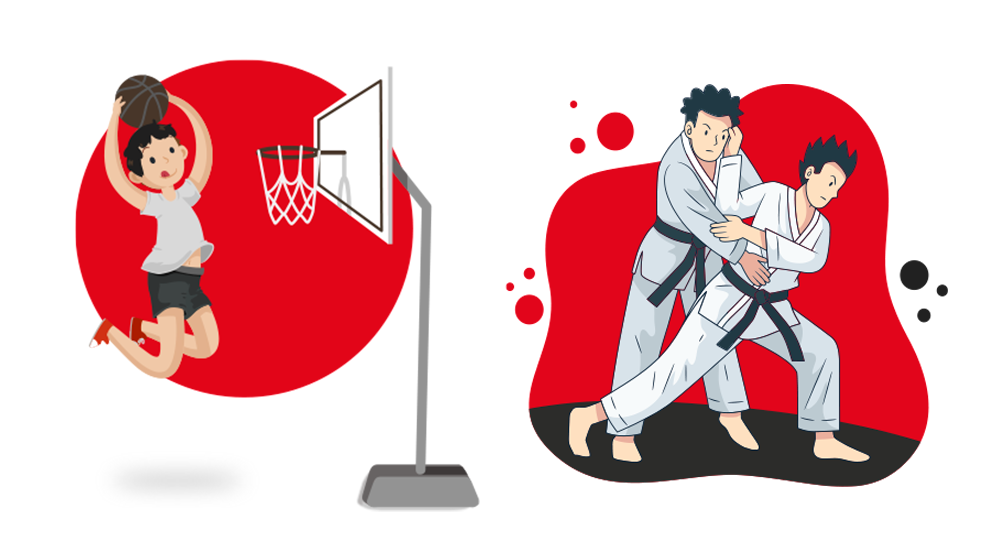 The social impact of sport
For starters, the sport exists everywhere in the world and has a very old history. One of the first records of the sport was in China, around 4,000 BC In Brazil, the sport began in mid-1810, in Rio de Janeiro, with Turfe, a kind of horse race. At the end of the 19th century, in São Paulo, the first football clubs emerged, such as Germania and Atlethic Club.
As a result, the sport has undergone several transformations since then. Several confederations emerged and championships began to take place. It is important to point out that through sport people learn to socialize, interact and create bonds with each other.
In this article you will follow how sport contributes to social inclusion.
Come with us!
Health and social inclusion
Surely you've heard reports of someone who had their life transformed by sport. People who had the opportunity to practice sports as a tool for inclusion. 
Especially for people with disabilities, adapted sports were created in different modalities. Adapted sport can even be done in an integrated way with individuals with and without disabilities, who practice and compete together, or separately. 
Understand some adapted modalities, according to the disability:
Intellectual disability:

swimming, athletics, table tennis and others;

Visual impairment:

, swimming, five-a-side football, equestrianism, goalball, athletics, judo, cycling, weightlifting and winter sports;

Hearing deficiency:

athletics, soccer, handball, basketball, swimming, volleyball, among others. It is noticed that people with this disability can participate in many modalities, given that their physical characteristics are not incompatible with most sports.

Physical disability:

running (wheelchair users),

wheelchair basketball, rugby,

bocce, sitting volleyball, amputee volleyball,

archery, football for amputees and people with cerebral palsy, athletics, wheelchair fencing, cycling, horseback riding, weightlifting, swimming, yachting, table tennis, wheelchair tennis and winter sports;

There are also other adapted modalities. Are they:

tennis, shooting, archery, horse riding, sailing and motoring, among others.
The benefit of sport for underserved communities
It is known that not everyone has the same rights of choice, especially those who live in conditions of social vulnerability. The quality of life, especially for children, matters a lot and most of them do not have opportunities to participate in sports activities, due to the precarious situation of poor communities.
For Júlio César Lana Jaques, founder of Projeto Social Ajudôu, an organization created with the aim of offering free Judo classes and team sports, access for children in socially vulnerable situations was the focus of the creation of the entity. "Our objective with Ajudôu was to alleviate the problem of lack of inclusion. The history of the Project emerged precisely with an audience with very few opportunities in life, they were children and adolescents from a shelter for minors, from the most diverse situations, without family structure and with violence ", he says.
Also according to Júlio, with the arrival of Ajudôu, offering judo classes, the positive result was immediate, as the shortage was so great that they simply saw in the sport an opportunity for growth and learning. "They improved in all aspects, from coexistence, tolerance, notions of hygiene and so on. That's why, until today, we strongly believe in the power of sport as a mechanism for social inclusion, offering citizenship and dreams", he emphasizes.
Sport as public policy
When it comes to public sports policies, we can mention the PELC (Sports and Leisure Program of the City) which was created to meet the population's recreational and leisure sports needs. The PELC contributes, precisely, to social inclusion, in addition to stimulating coexistence and training of managers and community leaders, finally, it encourages research and the socialization of knowledge. 
In addition, there is the Sports Incentive Law No. 11,438/06, which allows resources from tax waivers to be used in projects for the various sports and parasports events across the country. 
In view of this, we cite, once again, the Project Ajudôu, who has always worked with educational sports, avoiding selectivity, the hypercompetitiveness of its practitioners, with the purpose of achieving the integral development of the individual and their training for the exercise of citizenship and the practice of leisure. 
"It's in the ECA, every child has this right, this should be a priority in all governments, working at the grassroots, reflects on the future. We are aware of the great challenges that our country has to overcome, but surely sport in education is the way for everyone, greatly reducing the cost of health and violence", concludes the founder of the project, Júlio Jaques. 
And finally, it is important to emphasize that the practice of sports contributes richly to the development of motor and cognitive abilities, in addition to strengthening self-esteem.